ф
А
Р
В
А
Ш
И
Я
Т
Н
А
В
И
Г
А
Т
О
Р
В
А
Р
Т
Ф
О
Т
О
Г
Р
А
Ф
И
Р
Т
А
Ф
О
Т
О
А
Р
Т
Р
Е
В
Ю
С
П
И
С
А
Н
И
Е
З
А
П
О
З
И
Т
И
В
Н
А
Ф
О
Т
О
А
Р
Т
К
Р
И
Т
И
К
А
ф
А
Р
В
А
Ш
И
Я
Т
Н
А
В
И
Г
А
Т
О
Р
В
А
Р
Т
Ф
О
Т
О
Г
Р
А
Ф
И
Р
Т
А
Ф
О
Т
О
А
Р
Т
Р
Е
В
Ю
С
П
И
С
А
Н
И
Е
З
А
П
О
З
И
Т
И
В
Н
А
Ф
О
Т
О
А
Р
Т
К
Р
И
Т
И
К
А
ф
А
Р
В
А
Ш
И
Я
Т
Н
А
В
И
Г
А
Т
О
Р
В
А
Р
Т
Ф
О
Т
О
Г
Р
А
Ф
И
Р
Т
А
Ф
О
Т
О
А
Р
Т
Р
Е
В
Ю
С
П
И
С
А
Н
И
Е
З
А
П
О
З
И
Т
И
В
Н
А
Ф
О
Т
О
А
Р
Т
К
Р
И
Т
И
К
А
ф
А
Р
В
А
Ш
И
Я
Т
Н
А
В
И
Г
А
Т
О
Р
В
А
Р
Т
Ф
О
Т
О
Г
Р
А
Ф
И
Р
Т
А
Ф
О
Т
О
А
Р
Т
Р
Е
В
Ю
С
П
И
С
А
Н
И
Е
З
А
П
О
З
И
Т
И
В
Н
А
Ф
О
Т
О
А
Р
Т
К
Р
И
Т
И
К
А
ф
А
Р
В
А
Ш
И
Я
Т
Н
А
В
И
Г
А
Т
О
Р
Ф
О
Т
О
А
Р
Т
Р
Е
В
Ю
С
П
И
С
А
Н
И
Е
З
А
П
О
З
И
Т
И
В
Н
А
Ф
О
Т
О
А
Р
Т
К
Р
И
Т
И
К
А
ф
А
Р
В
А
Ш
И
Я
Т
Н
А
В
И
Г
А
Т
О
Р
В
А
Р
Т
Ф
О
Т
О
Г
Р
А
Ф
И
Р
Т
А
ф
А
Р
В
А
Ш
И
Я
Т
Н
А
В
И
Г
А
Т
О
Р
В
А
Р
Т
Ф
О
Т
О
Г
Р
А
Ф
И
Р
Т
А
Ф
О
Т
О
А
Р
Т
Р
Е
В
Ю
С
П
И
С
А
Н
И
Е
З
А
П
О
З
И
Т
И
В
Н
А
| | | | | |
| --- | --- | --- | --- | --- |
| | | C O N T E N T S | | |
| | | FOTO AART RЕVIEW | | |
| | | | | |
| | | | | |
| | | | | |
| | | | | |
| | | | | |
| | | | | |
| | | | | |
| | | | | |
| | | | | |
| | | | | |
The art photography of today is very popular, classic photography approaches are known, modern influences are numerous, people rarely take the trouble to go deep in the thousands of methods and schools. They simply prefer to take their camera and start looking upon the world through the view-finder. In most of the cases this recipe is the better option compared to the efforts made to adapt the aesthetics of the 60s into the 2011 form of creative work.

Photographic equipment is so widely spread today that even using their mobile phones, everyone can take a photo of how people drown in tsunami waves at the other end of the world, or how volcano lava buries whole settlements. And if a fan of what is modern, takes a picture with a mobile phone of a hailstorm in a wild Bulgarian village and is the first to send what he's recorded to the national television, he has nearly a hundred percent chance to find himself amidst the leading TV reporters.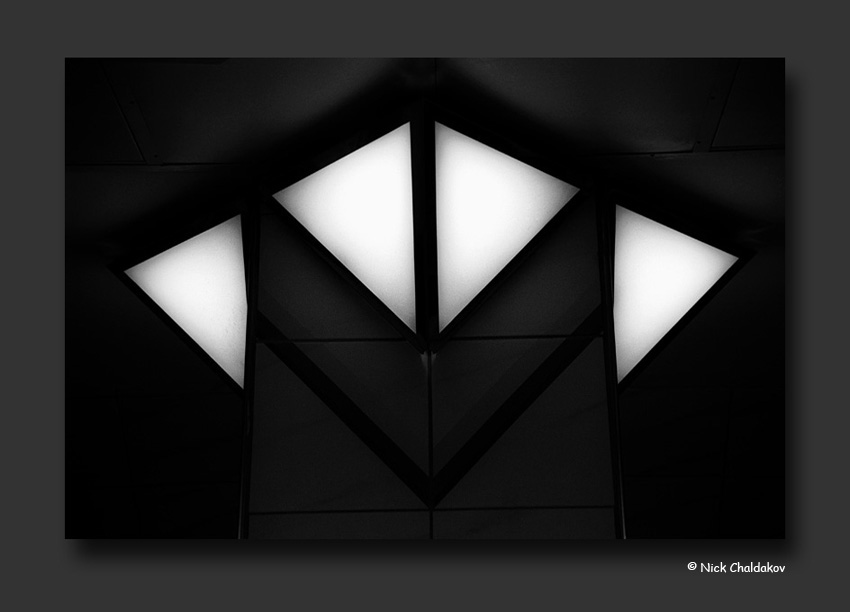 | | |
| --- | --- |
| UFO - London, 1991 | photography © Ник Чалдъков |
The LIGHTHOUSE that is already winking at you from the monitors of your computers has been conceived long ago, but built only recently in the most pleasant to live in Bulgarian city – the beautiful Varna. Computer photo magazine LIGHTHOUSE will be your guiding light in the ocean of modern photography – just as sailors use the light from lighthouses to steer them. Light in your houses – lighthouses.

In the centre of this bilingual (Bulgarian, English) online publication is one of Bulgaria's most headstrong and singular creative photographers – the citizen of Bourgas and Varna, the citizen of the world – Nick Chaldakov. With him there are other people for whom art photography is not just technique and profession, but a complex combination of ideas, philosophy, visions, emotions, raptures. Insight in English, noesis in Greek – those creative impulses that come from inside. And become forms, verses, melodies that bring aesthetic pleasure and contemplation on the people. These same people that would be encouraged from publishers to take photos, to show their photographs to everyone and to listen with grateful, however, lyrically ironic smile, the comments of the ones their creative work is intended for. Because there aren't and shouldn't be any recipes when one makes art. There are recommendations, which are also not obligatory. As a rule, a work of art (including a photographic one) "seizes" the spectator most of all with the feelings and ideas embedded in it. Feelings are highly individual, while ideas always bear cryptogenic nuances and messages…

This is exactly the reason why Nick Chaldakov and his team prefer to withdraw into the back room of photo-didactics where they can whisper (as if to themselves alone) the simple incantations of creative work: "Be fair, be frank, be unbiased, be fair, be focused, be healthy, be frank, be in love, be awake, be careful, be frank..."

And those, who with a glass of wine and a sandwich in hand visit the art halls, may not even prick up their ears to hear the incantations of creative work. They will have a drink, something to eat and then will walk out with indifferent satisfaction.  Until the next art cocktail.

For others, however, this sequence of often repeated short incantations may bring that cleansing of the soul about which the publisher has written a whole book.

The LIGHTHOUSE magazine is a publication for the initiated – not "experienced", not bearing the stamp of bias, not-steeped-in-prejudice people or those for whom there is an almost "secret intent" behind every creative art appearance. A person is initiated when he is dedicated to perceiving a work of art – he is potentially ready to make it his own at some point – sooner or later, depending on his receptors for the light emitted by LIGHTHOUSE.

LIGHTHOUSE will emit for a long time to come the signals to the people who need them within and who can by using the "winks", navigate the complex expanse of all that is around – and to present it in photo format, we love calling "life".

The LIGHTHOUSE team will have only one care – to periodically clean the crystal prisms of the equipment in order to let the light reach the ones that need guidance and help. For all the rest, there are two options – to crash into their own egocentricity or to successfully go to other paths, led by other inner and outer lighthouses…

Because the paths of the creative artist are always different – and only his own…

Text: © Plamen Pachev
L I G H T H O U S E I S S U E  N U M B E R # 1 | F E B R U A R Y 2 0 1 1 | A N  A T T E M P T  F O R   A  P O R T R A I T  O F  T H E T E A C H E R
AN ATTEMPT FOR A PORTRAIT OF THE TEACHER
Interview of Yana Radilova with Nick Chaldakov


Artist of the Week — Nick Chaldakov

Source: www.public-republic.com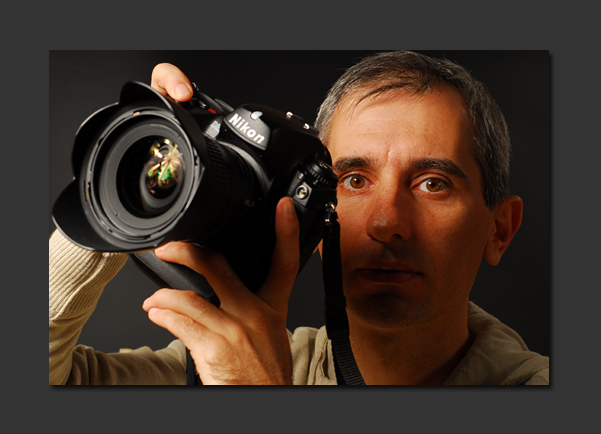 Nick, it is wonderful the way you combine photography with teaching! Why did you decide to teach?

One of the reasons why I teach photography is to help everyone who loves photography – back in my days in Bulgaria there were no photographic workshops... Over a cup of coffee, sometimes whiskey, talking with the masters of photography Garo Keshishyan, Krasi Delchev, Milan Milanov and Alexander Nikolov I was learning... these were friend talks which led to my becoming a professional photographer – in the beginning of the 90s when I went to study photography in London, I received only excellent grades in the exams…

Contemporary photography is currently undergoing conceptual crisis – it is caught up in the mould of the universally liked. This is the other reason why I teach photography – I teach my students not to succumb to moulds and to express themselves. Picasso: "I paint objects as I think them, not as I see them". This is the hard way but it leads to real success. Success of the spirit and success in the matter. This is the way to the creative artist's happiness.

I teach because thus I feel closer to the essence of photography. Commercial work is routine and becomes cliche, reproduction, series, soap opera, while art photography is liberating and creative. My success in art photography is due to good fortune. I am not biased. I have no aims. I have states of the spirit. I let myself go in these states and the things happen the way they are, without effort or orders. This is she – the freedom – that is born in our souls – reminiscent of Hristo Fotev, right? It is namely this freedom that I preserve through teaching. So that my students can achieve Multoinparvo – a lot of in a small (space).

What kind of person is hiding under the image of the photographer and teacher Nick Chaldakov?

It is not "hiding", it is showing, sharing, learning... And it is teaching. When you talk about yourself, there is a risk of your falling into fascination – narcissism is a bad diagnosis. Other people can say what kind of person is hiding in me. I can only say what kind of person I want to be hiding in me. "The earth does move all the same!" exclaims Galileo Galilei. I would say: There is an image of God hidden deep inside of me. It is hidden in every one of us. Your image of God depends on the kind of person you are...

On your walk through life, it is better not to forget the internal queries of the spirit and to lightly pass by our earthly problems. Photography is a game of light. Life is a game of experiences – and dreams. All – starting from childhood – is play. "You can deny seriousness, but not play" as Dutch professor Johan Huizingа wrote in his book Homo ludens in 1938. Inside of me is hidden a man playing with light – Homo ludens lucidum. As well as with love and life. To the question how he creates his music Mozart answered: "Very simply – I arrange closely sounds that love each other." I seek to arrange closely lights and shadows that love each other...

It is time for us to realise our bio-psychological power and get out of the social matrix. The matrix wishes to tell us that we are weak, dependent and small, but it is quite the contrary – the power is in us, we depend only on our own limited consciousness and we are as big as our dreams are. It is time to free ourselves from our fears and to fill in with love and acceptance. I am a new person, about whom speaks also Petar Danov – a man from the sixth race. As my students say, I am not only a photography teacher; I am also a life teacher.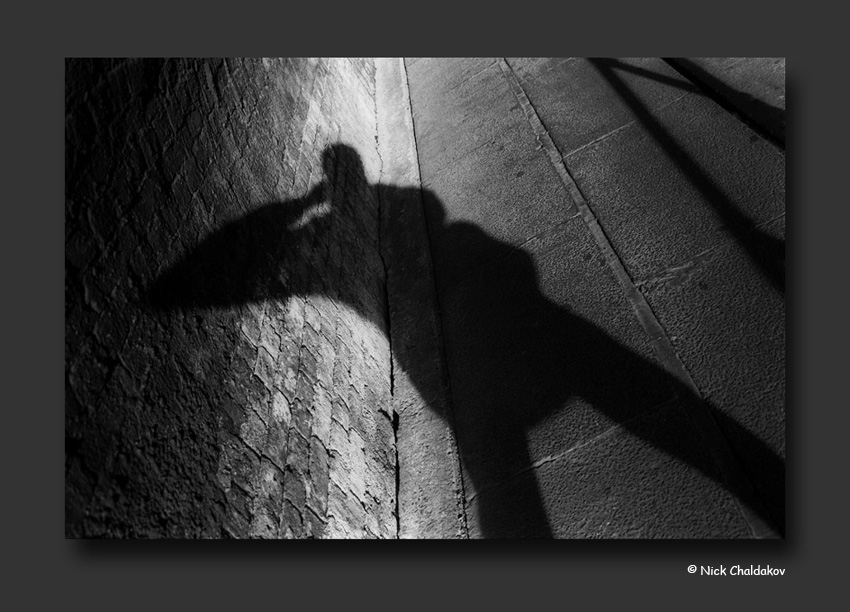 | | |
| --- | --- |
| London, 1991 | photography © Nick Chaldakov |
You have started taking photos since you were a child. Does this mean that photography is your calling?

When I was four I used to play with the photographic films of my father, who is an amateur photographer – and "photographer" of cells. He photographed them with an electronic microscope in the Medical Institute. Now my seven-year-old son takes photos with my mobile and an old Olympus. My father aroused my interest in photography. I have been taking photos ever since I was seven. When I was 10, my father gave me my first camera "Change symbol" and I started to take photos alone. When I was 13, I won my first award. When I was 16 I started to take part in photographic competitions on the same level as professionals, and some of them envied me when I took their awards from them. After I won almost most big competitions in Bulgaria and felt recognised enough, I stopped taking photos for 6 years. I got involved in video ads. There again, things got going very well, and again - awards, success. I gave up the video and made my yacht "Diogen" – my mother is a dentist, however, she helped me a lot building it. With friends and girlfriends we floated "Diogen" on the Bulgarian Black Sea Coast – at that time we used to have our coffee with Nickolay Dzhambazov in Bourgas, Sozopol... and, in a few years, I went back to photography – my first love! I began to study photography de-novo. Up to this day, I am still studying… Now I learn from my students – ever since I am teaching, I do not take part in exhibitions that are competitive in nature – I have left those for the young.


I am – perhaps – a natural born photographer. Photography is my earthly path towards light. It is my path towards myself. However, I never forget that photography is just a play. There are much more important things in this world. For instance, the purity of the spirit - revealing the truth about life.

You place yourself in the "painting with light" group. Would you, please, explain to our readers, what is exactly this photographic approach?

I was called that in an article about me written by the art critic Plamen Pachev (newspaper "Duma – Sofia", 15 February 2006). "Painting with light" means to be a photographer-painter. An amazing definition of a person, who loves and is able to harmonise the light in his photographs. I am grateful to Plamen Pachev!

Is there a substantial difference between Bulgarian and London photographers?

They are the same in essence – these are the people who love and do photography. London photographers know how to admire good photography. In London, photography is looked up to – spiritually and physically.  I have never been shown more respect than when I was in London. London photographers Alan Marsh and Stratmant MD convinced me that I've got talent and that I should photograph. There are a lot of very good photographers in Bulgaria too, but unfortunately we inhabit a materially poorer milieu.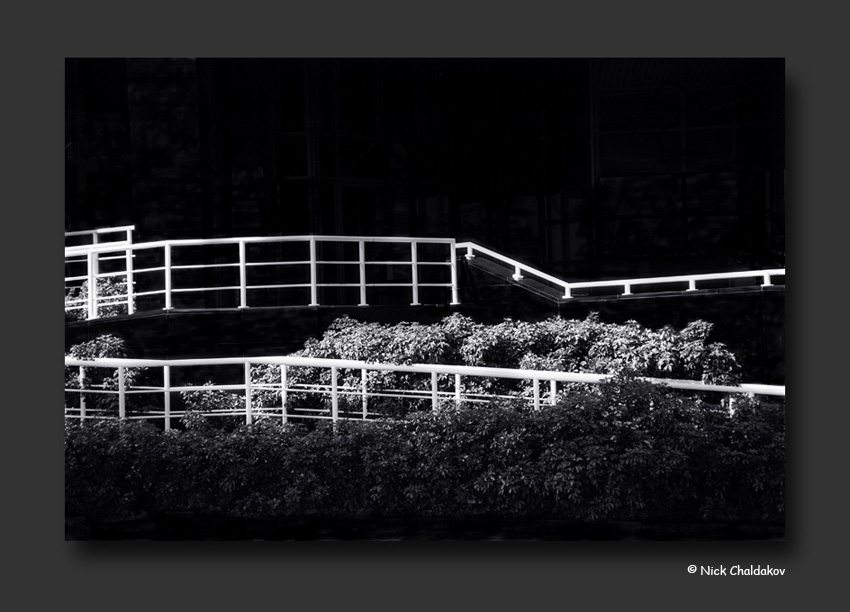 | | |
| --- | --- |
| London, 1991 | photography © Nick Chaldakov |
Do you think that you, personally, still have anything left to learn in the field of photography?


YES! Now I learn from my students. I am glad that they are truly talented and that they get on with photography – and in life. If I ever stop learning, I would also stop taking photos. Photography is a river. If you stop, the stream will thrown you ashore. An aim once reached is no longer an aim – as my grandpa Niko from Bourgas used to say. He was a man experienced in life – manager of the Bourgas Sea Casino for many years, friend of the Bourgas intellectual bohemians... He "passed it on" to my father, and my farther – to me… The most beautiful relay race!

And now tell us more about your photography classes… How are students enrolled?

I started 5 years ago as a joke. My first student was the car tuning specialist Dobromir Stoychev – Dobo from Shoumen. When he started to be a professional stock photographer and to sell photos in one of the biggest professional agencies www.alamy.com I mused if the joke was not serious.
Later came Volen Evtimov from Sofia – he became a very good professional photographer. I said to myself: "This joke works". Then followed the success of Rossie Mihova from Sofia in many art photography competitions. Аnd when four of my students (Valeri – from the town of Razgrad, Stefan Dilov – from the town of Varna, Zlati Georgeva – from the town of Varna, Damyan Dimitrov – from the town of Beloslav) entered NATFA and NBU in Sofia to study photography, I started thinking that maybe I was good at photography...? However, I was still not certain. Only when Damyan had his first one-man exhibition "Abstract" in "Silvena Art Rousse" in 2010 did I see that I could teach, so I started to get organised. I drew up a special programme offering levels for beginners, advanced and searching students, regular and intensive training, and published it on my site.

Now I am to commence the online publication of Photo Art Review – LIGHTHOUSE, which specifies one of the places where photography is taught – skilfully and with love! And where I present my best students through creative criticism and photos. My site, it seems, is universally known – it comes on the first page of hits in www.google.com when you write the words art, photography, gallery – this is a good start on their road to being photographers. I made a training photo studio with professional backgrounds and flash lights. Given my smiling personal presence, I reckon I've got some of the happiest photography students. These students make me happy too!
A good teacher is the teacher who can explain what is complex in a simple and intelligible way. A good teacher is the teacher who can bring out and develop the talent of his students. A good teacher is the teacher who is surpassed by his students.

The photo classes are intended for three types of students: Beginners – everyone can enrol here; all they need is for me to like them as people. I tutor only morally worthy people.

Advanced – I accept only really talented students after reviewing their photos and interviewing them. Undecided – here I accept the widest range of students; these are three days' intensive workshops. After the workshop I decide whether I can teach a student and the student understands whether this is for him.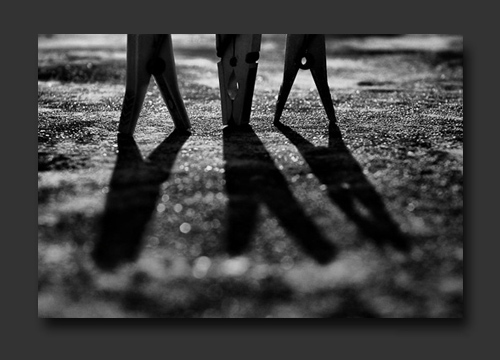 | | |
| --- | --- |
| | photography © Damyan Dimotrov |
Do you teach people who have never photographed before?

I love all that is alive, I accept everything that exists, I rejoice in this thing called Life! Most of all I love to start teaching from the basics… thus they become the best students. I run a workshop called "100 ABC About Photography". In it I explain the entire photography in 100 sentences for 3 days Just for an intellectual fun!

Is it necessary for the professional photographer to work with Photoshop?

Yes! Photoshop is a marvellous program! But as every program, it also has its limitations. Only creative work is unlimited.  That is why I teach my students to use Photoshop creatively. I teach Photoshop for photographers. I do not teach Photoshop for designers.

Most of all I teach my students how to make unique photos because you cannot process with Photoshop something that has not been photographed. When working with Photoshop, it is very easy to fall under the deception that you are a photographer. If you are very good with Photoshop, this solely signifies that you are a good designer. Photography is something different. It is the ability to photograph an object in such a way as to tell the whole story in one frame – that Multo in parvo I mentioned above. The ability to find the one perspective to the object which characterises it best and at the same time is unique only for you. Photoshop cannot do this. Photographer, only you can do this!

What privileges do students enjoy after obtaining the certificate "MASTER CLASS PHOTOGRAPHY at THE NICK CHALDAKOV PHOTOGRAPHY SCHOOL"?

The privilege of joining the club of the world's bright and able photographers. With this certificate, you can show with whom you have studied photography all around the world. And he or she can judge for themselves... After completing their photographic training with me, I continue to take care of my students. I organise for the best ones one-man exhibitions, publish criticism and analysis of their work in LIGHTHOUSE.

Does the age matter in photography?

No. It is like love – the age does not matter; what matters is the will and intent. And of course the ability, potential! Because for these there is still no Viagra. Photography is an art, and the muse, the insight, can come in any given moment in life. It is never late for photography.

Do you make your student to photograph something definite or do you give them creative freedom?

Both! The Italians say "cane sciolto" or something phonetically close to this – the meaning being that the dog can run freely but it is still on a leash. A true artist is born through the combination of the classic, conservative approach (where one studies about the golden section, classic composition and classic lighting, imitating established photographic styles, no freedom) and the modern, contemporary approach of individualism (where every student expresses himself as he likes).

A given photographic system functions well when it is organised according to the classic composition principles and the principles of freedom, the dynamics of chaos – the creative impulse in us. The primary impulse is very important in the theory of chaos, remember "the butterfly effect" and then it would be easier for you to imagine the teacher as butterfly wings...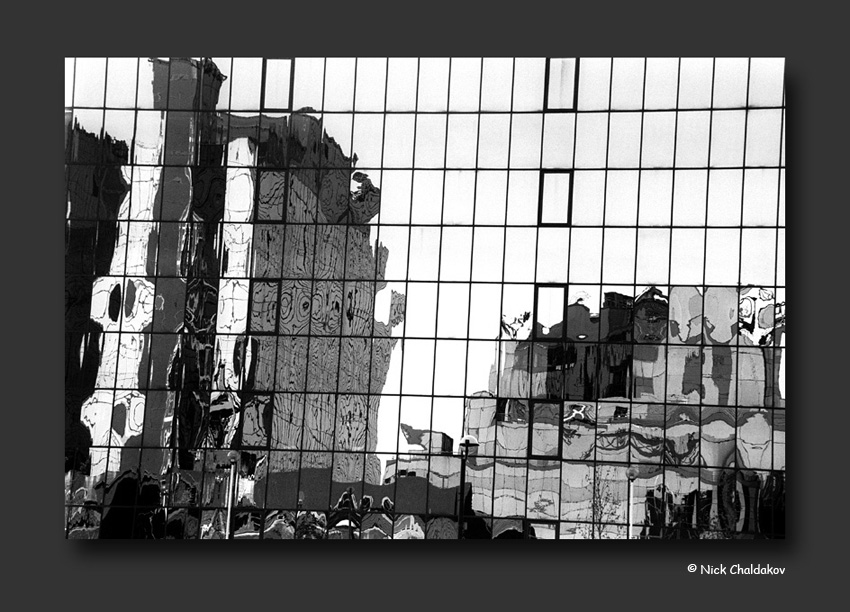 | | |
| --- | --- |
| London, 1991 | photography © Nick Chaldakov |
Do you encourage people with no photographic talent?

All people have talent. Will is a herald of talent. My teaching methods reveal the talent – contemporary science is about datamining, datafishing, what I do is "talentmining". If you are born with talent, you can realise it in this lifetime. If you are born with a will for talent, you can develop your talent. Yes, you will also need a talent for luck, "talent for happiness".

I encourage everyone because positive thinking is the road to success. If people without photographic talent imagine that they do have such a talent and persist in photographing, one day they will be very good photographers.

I have a special system for talentless people – I teach them how to think, which will help them uncover their talent. When exactly will this happen in time, no one knows. But it happens, as my experience shows. I can teach everyone willing to become a good photographer provided they confide in me. Tell me what technology for revealing your students' talent you apply, and I will tell you what kind of a teacher you are – this is my recipe for photography training…

Има ли идеална снимка и ако да, какво представлява?

Фотографията е като живота. Идеалната снимка е в идеалния свят. Ние сме в света на баланс между т. Нар. "ред" и хаоса. Тук има добре балансирана снимка и тя може да е всяка една. Когато я видя знам, че е тя. Аз все още не съм направил идеалната снимка и затова продължавам да снимам. Когато направя идеалната снимка, ще спра да снимам.

Всъщност, идеалната снимка може да направи само Бог. Той отдавна я направил, но не всеки от нас я вижда. Бог е вътре в нас. Погледнете в себе си - там е идеалната снимка. Сега остава да я направите...

Is there a perfect photograph, and if yes, what does it look like?

Photography is like life. The perfect photo exists in the perfect world. We are in the world of balance between the so called "order" and chaos.. Here we've got a well balanced photo and this can be any photo. When I see it, I know it is it. I have not yet made the perfect photo and that's why I continue photographing. When I make the perfect photo, I will stop photographing.

In fact, only God can make the perfect photograph. He has made it a long time ago but not everyone of us can see it. God is inside us. Look inside yourselves – there you will find the perfect photo. Now all that is left is to make it…

Do you think photographers have future in Bulgaria?

Definitely YES! There are plenty of talented photographers in Bulgaria, but the economic situation does not stimulate good photography for the present.  However, I am an optimist because more and more often clients prefer expensive quality photographs for their ads.

There is one much more serious reason why the "economic" photography in Bulgaria is not more prestigious. Namely, the attitude towards photography and photography training. Bulgaria has no traditions in this respect. London has, and that's why there are more good photographers there. Here, young photographers try to learn from each other, e.g. in photo forums, but this is like blind leading the blind. They alone impose on themselves stereotypes for good photography, and the one who does not observe these stereotypes is banished from the community – this is a harmful and confining practice, which lies in the core of the lack of success of the Bulgarian photography. There is a way out – photography taught by experienced and established photographers.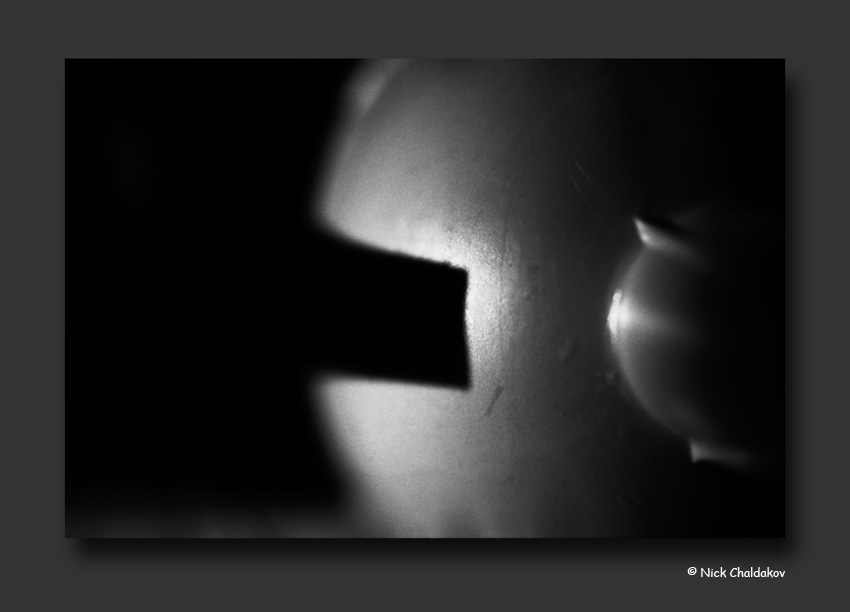 | | |
| --- | --- |
| Bulgaria, 2000 | photography © Nick Chaldakov |
Does the economic crisis have a reflection on the photographic life?

The economic crisis is a consequence of the crisis of the consciousness, of the spirit. When we, the people, realize that the true crisis lies inside of us, things will come out all right. You have to be Heurisko, "the finding", a discoverer – the world stands on Archimedes'  "Eureka!", on ideas thought up by people. There are ideas that have been imposed by a group of interested parties – such idea is the idea of money. This idea is inefficient. There are already financiers who propose a different idea about money and it will soon change the world. Money is not real in the contemporary world. It has no real cover. The idea of money becomes more and more a fake one. Printing money should not be the privilege of banks. Consider why printing money is illegal for people, but lawful for banks? When you answer this question, you would understand what I want to say. Happiness is not a function of material success, it is a function of self-improvement of the spirit. When we overcome the spiritual crisis then we would overcome the economic one too.

Can you, please, wish something to everyone who loves taking photos?

Everyone who wishes to become a good photographer, will become one. Because they already have the key to success – the photographic classes and workshops of Nick Chaldakov.
Source: www.public-republic.com
L I G H T H O U S E I S S U E  N U M B E R  # 1 | F E B R U A R Y 2 0 1 1 | T H E  T I M E  A N D  T H E  P H O T O G R A P H E R - М А N I F E S T O  O F  T H E  C R E A T I V E  W O R K
THE TIME AND THE PHOTOGRAPHER
Manifesto of the Creative Work

I was born in 1967 and my name is Nick Chaldakov.

This is disputable. Someone has entered in the books that I was born in 1967, and someone else has named me Nick Chaldakov.

I suppose I have come to this illusory world by accident and with love. I thank fortuity – I take the love and decide to use it, transformed into creative work.

I set out from the fact that I do not know what is 1967 in the sands of time. Does the year 1967 have a distinct face, apart from the banal video quotes on the state television every single December? Is there a time at all or is it just an illusion created by people to make them more stable in the eternal maelstrom of fate? Where is time? Does it exist for real? Does it only exist in the number 1967 thought up by the people as a totem in the cave of their perception of eternal danger and inexplicable fear?

This is how I, as a creative photographer, make my own research of time by using the means of creative work.

I begin from the number 1967. Now, for the first time, do the results from this research become available. No, I am not some vain madman as many other people with cameras. At the very least, I live away from the rocky coast of Spanish Cadaques, the shelter of Salvador Dali. Dali – the great explorer of objectivised time! I am not a physicist like Isaac Newton, the man who discovered the law of gravity. But I can be a relative, friend to both, or at least think like them, right? And this, mark my words, in ANOTHER TIME. Allegedly "another time" but with similar or even identical thinking!! Please, go back to the top of the text for a moment, before continuing.
EXPERIMENT I – "Measuring" the Time

Use all your senses to analyse very carefully the experiment I've conducted to measure time with a meter.

The gauge of time – the watch – is above the meter. Measurement is accurate. And what does it turn out to be? How much is the time? The majority of people will say without thinking "10 hours". But this is just the position of the watch hands on the watch face. People can first look at them, but then, right after, they would look around to see if it's light or dark. This means they need an extra reference point. What is hour? The hour is a generally accepted measure of time.

But let's ask ourselves – is there really something to measure? I want to measure the "real" time!? The things that concern only me, my life, my love, the snowflake in January falling on her hair?! How can one measure all that with my grandpa Niko's pocket watch?

Can one compare the measurement tools with the object of measurement? Attention! There is more…

*A subjective result of mine from my visual experiment: There are things that can only be photographed and delivered as images, but there is nothing to be measured as objective reality. Strange – traditional physics claims the opposite… Perhaps time is a notion based on transient biology. Yesterday the man was a child, today he is an impetuous youth, and tomorrow the well-built young man will turn to a desolate old man. Can this be visualized?

Hence, time resembles logical illusion because it could easily be human fabrication. We can accept that this fabrication is a mistake. If you like the photo then time turns into ethereal art.

Stop! What is closer to human nature – the fiction of time or the beautiful manifestation of ethereal art?
Let's not forget my petty and subjective declaration that in fact we have nothing to measure when we talk about time. However, we can interpret it creatively. And this is already a challenge – a challenge indeed!
EXPERIMENT II – "Anatomy" of Time

In this experiment, I've tried to anatomically dissect time. What is the biological nature of time? What do we know about chrono-biology – the time as a live organism, subject to changes which are supposed to be "governed by natural laws" but we cannot influence them?

We have already mentioned above through creatively philosophical visualization that people are used to measuring time using their watches. It follows from here that perhaps time is… in the watch. But does it follow from here that if we do a photo-dissection of the watch, we would understand something more about time?

*Visual result from the experiment: It is clearly visible that my pocket watch has only cogged wheels – elementary mechanics. Time is nowhere to be seen – there is only something like technical "crutches" for its measurement. Who has decided that we can measure time with these cogged wheels and mechanisms? It comes closer to understanding that the manufacturer of watches simply wants to take our money – just like the manufacturer of bicycles, wafers and cars. As we found out from experiment I, there is nothing that can be measured with the watch. Is it possible to measure something that does not exist?!

*A subjective result of mine from my visual experiment: Time cannot be measured with a watch, because it does not exist for real.
EXPERIMENT III – Is Time "Sand" or is it rather "Gravity"?

Тhis experiment is very interesting when visualised. Let's explore (using the camera) the hourglass – this old tool that people have always maintained to use to measure time. Here everyone can clearly see that the sand falls down – according to Newton this is gravity. Gravity and sand, we, the witnesses of the experiment will add.

*A result of mine from my visual experiment: Time turns out to be sand that falls down drawn by the power of gravity. But what is sand? What is gravity?

Sand is something very easy to manipulate – it goes wherever "the wind blows" and wherever the gravity draws it. And Newton has explained gravity well. Therefore, for the measurement this time (just like in the case with the pocket watch) one needs to use certain simple elements in order to explain something very complex. And what is more – nonexistent… This is disturbing.

*Result from my experiment: Time is sometimes so sandy that we cannot be sure whether it really exists or whether it is something fabricated by people. "God, how beautiful you are!... How sandy you are!" – wrote Hristo Fotev. It's a fact, however, that we will grow old only if we accept that time exists. Then we will die.

If, however, we do not accept such an assertion, then we will stay forever young. It comes out rather charming – if we do not subjectively accept that time exists, then we will not be changing. And this is one of the most beautiful and eternal dreams of people. By the way, we can make a choice via creative work – let's do it here and now…
Conclusion of the Creative Photographer on the Subject of "Time"
Time is a deception contrived by people. The only real things are the notions of "now" and "here". If we stay forever "now" and "here" we can be forever happy, eternal and untouchable! Because the notions of "happiness", "eternity" and "untouchability" are absolutely subjective notions, i. e. they depend on us and us alone.

As far as I am concerned – I was not born in 1967 because there has never been 1967. My name is not Nick Chaldakov simply because I was never born. I am eternal and indestructible because I can be beyond this fabrication called "time". I am always "here" and "now"… "I am now"

Such a hypothesis supports creative art, which would be confirmed orally or through their work by all artists.

Text and photos: © "Nick Chaldakov"
L I G H T H O U S E  I S S U E  N U M B E R  # 1 | F E B R U A R Y 2 0 1 1 | D А М Y A N S I M P L E D A M Y A N
DIDACTICS AND MATHETICS

I remind all my students that love towards knowledge, inquisitiveness should accompany them throughout their entire life - lifelong learning, as it is called in the developed countries around the world. Something like (in Greek agapo - "to love") – a story from А (alpha) to (omega), from the first to the last letter of the Greek alphabet, i.e. from the beginning to the end...

Then I remind them about Didactica magna, written by one of the greatest European teachers – the Czech Jan Komensky (1592-1670) - founder of the contemporary didactics (the science of  teaching; Greek didaskalos – teacher, tutor) and mathetics (the science of learning; Greek mathematikos – inclined to learn).

I also remind them about paideia – the Hellenic programme for refinement through education and moral instruction. Respectively – about paidagogos (pedagogue) – from Greek paidos – child, ago – lead, "the one who leads the child". In ancient Greece – the servant takes the child to school. In the root of the English word education there is too "guidance" – from Latin educere - "to lead out" (to reveal the student's abilities), where ducere means "to lead". Hence, teachers are "servants" to their students.
When I first met Damyan it was one late afternoon when the light was muted... His mother brought him to the cafe opposite my studio in Varna and told me that her son is fascinated by photography. Damyan was a slender boy with an air of slight diffidence. I felt that a rich personality was hidden behind this diffidence. In the beginning Damyan did not display any special talent and did not come out of the rest of my students.

Furthermore, he continued to be diffident, asking weird questions. I went on trusting my feeling from our first encounter – there was a rich personality hiding in this boy…

After six months my feeling gradually materialised: Damyan showed understanding about the composition and lighting, which reflected in his photos. After that things moved on without an effort, and now, I can call Damyan one of my best students, a well-deserved continuator of my style Simple abstract. Damyan interprets in his own way Simple abstract and proves this in his first one-man exhibition - "Abstract" Silvena Аrt 2010


Simple Abstract is a continuation of the abstract-oriented Minimalism. Minimalism is not a very popular style in photography and few authors admire his idea – to show only the things the author needs if he wants to be able to sleep – nothing redundant, only the most important! He is so simple that he remains unnoticed as the years go by. I won't hide that this is my favourite approach in photography. I was very glad when one of my student noticed and developed this approach by himself - Simple Damyan.

Simple Damyan is a complex, abstract way of expressing his rich personality. The personality I had felt from our very first encounter. Setting out from the dictum that there is a deep meaning behind every form, Damyan's work reveals the philosophical world of one searching and finding creative artist.

It is again a late afternoon filled with muted light and we meet again with Damyan in the cafe opposite my studio. But Damyan is different now: from the classically correct composition combined with abstract vision to the strangely trivial objects from reality he photographs, make him a unique continuator of minimalism in photography worldwide.

CODA (CONCLUSION)

Мurray Gell-Mann (81) lives in Santa Fe, California. He discovered the quarks - "the strange and charming" particles born by the Big Bang – a Nobel Prize Laureate in Physics from 1969. In 1999 Gell-Mann gives a lecture called "Plectics: The Study of Simplicity and Complexity". Indo-European word "plek", via Greek "plektos", comes to Bulgarian as "braided", "braid". Respectively "simplex" means "once folded" (simple), "complex" - "braided together" (complex), "multiplex" – "multi-folded" (very complex). And so "plectics" - the study of simplicity and complexity – the main subject of Gell-Mann's institute in Santa Fe. When he talks about removing the redundant "packing" of one message, he mentions also the teacher in primary school who gives the children a home assignment to write 300-hundred-word composition. One of the pupils, who played all day, quickly wrote the next day before school: "A fire broke yesterday at my neighbours'. I opened the window and started screaming: Fire, fire, fire…". Thus the composition came to exactly 300 words.

text: © Nick Chaldakov
photos: © Damyan Dimitrov
ф
А
Р
В
А
Ш
И
Я
Т
Н
А
В
И
Г
А
Т
О
Р
В
А
Р
Т
Ф
О
Т
О
Г
Р
А
Ф
И
Р
Т
А
Ф
О
Т
О
А
Р
Т
Р
Е
В
Ю
С
П
И
С
А
Н
И
Е
З
А
П
О
З
И
Т
И
В
Н
А
Ф
О
Т
О
А
Р
Т
К
Р
И
Т
И
К
А
ф
А
Р
В
А
Ш
И
Я
Т
Н
А
В
И
Г
А
Т
О
Р
В
А
Р
Т
Ф
О
Т
О
Г
Р
А
Ф
И
Р
Т
А
Ф
О
Т
О
А
Р
Т
Р
Е
В
Ю
С
П
И
С
А
Н
И
Е
З
А
П
О
З
И
Т
И
В
Н
А
Ф
О
Т
О
А
Р
Т
К
Р
И
Т
И
К
А
ф
А
Р
В
А
Ш
И
Я
Т
Н
А
В
И
Г
А
Т
О
Р
В
А
Р
Т
Ф
О
Т
О
Г
Р
А
Ф
И
Р
Т
А
Ф
О
Т
О
А
Р
Т
Р
Е
В
Ю
С
П
И
С
А
Н
И
Е
З
А
П
О
З
И
Т
И
В
Н
А
Ф
О
Т
О
А
Р
Т
К
Р
И
Т
И
К
А
ф
А
Р
В
А
Ш
И
Я
Т
Н
А
В
И
Г
А
Т
О
Р
В
А
Р
Т
Ф
О
Т
О
Г
Р
А
Ф
И
Р
Т
А
Ф
О
Т
О
А
Р
Т
Р
Е
В
Ю
С
П
И
С
А
Н
И
Е
З
А
П
О
З
И
Т
И
В
Н
А
Ф
О
Т
О
А
Р
Т
К
Р
И
Т
И
К
А
ф
А
Р
В
А
Ш
И
Я
Т
Н
А
В
И
Г
А
Т
О
Р
Ф
О
Т
О
А
Р
Т
Р
Е
В
Ю
С
П
И
С
А
Н
И
Е
З
А
П
О
З
И
Т
И
В
Н
А
Ф
О
Т
О
А
Р
Т
К
Р
И
Т
И
К
А
ф
А
Р
В
А
Ш
И
Я
Т
Н
А
В
И
Г
А
Т
О
Р
В
А
Р
Т
Ф
О
Т
О
Г
Р
А
Ф
И
Р
Т
А
ф
А
Р
В
А
Ш
И
Я
Т
Н
А
В
И
Г
А
Т
О
Р
В
А
Р
Т
Ф
О
Т
О
Г
Р
А
Ф
И
Р
Т
А
Ф
О
Т
О
А
Р
Т
Р
Е
В
Ю
С
П
И
С
А
Н
И
Е
З
А
П
О
З
И
Т
И
В
Н
А